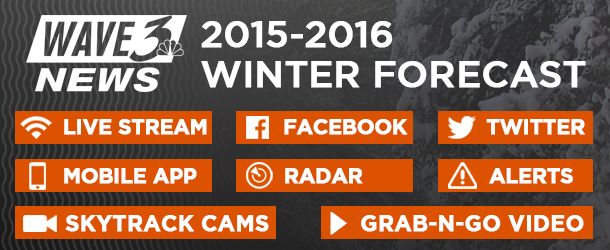 Happy Halloween!
Now, do you wanna see something really scary???  (from a movie...can you guess which?)
Before we dive into the details...this is how this post be presented:
-Normal Stats for Winter
-Players on the Field This Year
-What to Watch For
-Winter Forecast
-Your forecasts for the 1st snow!
ABOUT "SNOWTALK!" BLOG POSTS:
If you are new to the blog, this is how it works.  I will produce an update on a near daily basis with special updates during significant events.  The title will always be "SnowTALK!" until we are under a winter storm situation.  Even on days when no snow is showing up over the next 14 days---that will be the title.  
The blog is a way to be transparent with you, the viewer/reader, with the data we look at on a daily basis.  It is not secret I am a snow lover, but that does not mean I will "wishcast" a snow event either.  To help with confusion, WAVE 3 News Storm Tracking Team introduced the Confidence Meter this season.  On a scale of 1-10, we will let you know our confidence level in regards to whether a particular event is likely to occur.  We are scientists, so we do have a general idea of the likelihood of many of the events we have to face in forecasting.  But we are also dealing with an imperfect science so there will be systems that will challenge us to the last minute.  We welcome that challenge :)   This blog is not out to "hype" events...or to create "click-bait" as you may hear "others" claim. This is our home, we grew up here, our families are here.  We have invested interest in providing the most accurate forecast we can to keep everyone safe and informed.  
I have been posting winter outlooks from other outlets since the summer.  I won't be doing the same for this post.   This is the time to share what WE think will happen.
The winter forecast below covers data we have all been pulling our hair out over to try to identify enough of a pattern/trend to come up with a general plan for the winter.  I will say that Mr. Andy Weingarten is expected to post his own outlook soon on the blog.  Andy works with energy companies to forecast on a daily basis.  It will be interesting to see what he discovers and thinks about the upcoming winter as well.  So we will have plenty of data and reading for you all to pour over when it comes to the upcoming season :)
So sit back...relax...and let us do all the worrying for you :)
__________________________________________________________________________
NORMAL STATS FOR THE WINTER SEASON (Louisville)
December:
Normal High for the 1st: 51°  ...by the 31st: 43°.  Average (highs and lows) overall: 37.9°
Normal snowfall: 2.6"
January:
Normal High for the 1st: 43° ...by the 31st: 44°.  Average (highs and lows) overall: 34.9°
Normal snowfall: 3.7"
February:
Normal High for the 1st: 44° ...by the 29th (leap year): 52°.  Average (highs and lows) overall: 38.8°
Normal snowfall: 4.5"
Normal snowfall for the "core" of winter:  10.8"
Once you add in the odd snowfalls in November and March... we get an annual normal snowfall of 12.5"
Here are the March stats as it seems we have had some interesting times during this period this decade.
Normal High for the 1st: 52° ...by the 31st: 64° 
Normal snowfall: 1.4"
__________________________________________________________________
PLAYERS ON THE FIELD THIS SEASON
Let's start with the obvious one. EL NINO.  (click here to read more about El Nino)

The main focus is for the region of 3.4 on a location scale of 1-4.  
3.4 has been warming steadily since last winter/spring and it now starting to level off.  That is important.
There have been many comparisons to 1997, 1972...and even 1982.
 But a couple things bother me about that.  For one, the warm waters over Alaska to California were no even close to what we have been indicating over the past couple of year.  But perhaps more interesting is that those El Nino's peaked LATER than this one.  I think our current one is peaking and now entering the "cool" phase of El Nino.  
This "cool" phase lines up pretty close to 1987-88 to me, but again..the west coast temperatures were off.  So this year, there is NO GOOD ANALOG year to compare this El Nino setup and the Pacific water temperature anomalies.  
So when you don't have good analogs to go with...you have to go with what you know about the setup and recent impacts.
And with the warm Pacific NW still at play, the risk remains for an east coast trough this winter.  Yes, El El Nino will add a sub-tropical jet to the mix this time around.  That will only make the pattern more "exciting" for you weather nuts.   And that comes at a risk.  More moisture=more warmth.  So yes, there will be times we just get heavy rain with snow to our north.  The question will be...can we get the timing of the trough's and sub-tropical energy to line-up?  Of course that is possible. And the risk for such IS higher this season than the past 2.  
Here is closer look at those Pacific water temperature anomalies.  Here is the chart as of 10/26.
Here is the chart from last January.  
You can obviously tell El Nino is present right now.  But notice the similarities to the warm waters near Alaska down the west coast.
Also note the warm waters over the Central Pacific.  This likely means more "re-curving" typhoon threats over the next 30 days.  
As I mentioned earlier, the sub-tropical jet during El Nino is what interests me the most.
NOAA has couple maps that really help illustrate that.  
Number of rain days during strong El Nino winters:
Number of HEAVY rain days during strong El Nino winters:
I think the latter image will be more of a focus for not just heavy rain, but severe thunderstorms this winter.
So to sum up this player on the field: 
Yes, it will impact us when it comes to the sub-tropical jet.  No, we cannot compare it to another El Nino year EXACTLY.  Yes, the west coast water temperatures will be at play this winter to put the east at risk for more cold shots.
 ARCTIC SEA ICE:
Now this one also adds fun to the forecast.  The we lost much more ice this summer compared to the past couple of years.
What does this mean?  Well, depending on how quickly it can build/up and expand...the cold shots may not be that significant until it does.  Which helps with the "core" of winter cold taking place later in the season. We saw the same thing happen last year.  In fact, we didn't pick up our first measurable snow in Louisville (excluding November) until the last week of January!  
So this is an player that will have to be monitored..especially in later December ...to see if we are on track for another repeat or not.
This is a risky one to use for the forecast, but I am using the ocean waters temps to keep me on the same theme for this winter.  If it's not broke, why fix it? Right? :)
TELECONNECTIONS: (click the acronyms to learn more)
NAO/PNA/AO...I think most of you know what these mean.  They are the 2 week tools we can use to help us determine blocking patterns and movement of Arctic Air and jet stream patterns.  I am not going to use this for the winter forecast this year.  I've been burned by them the past 2 years due to the dramatic "flip" in the pattern we see mid-winter.  So I will leave them just as they are intended---2 week out tools.
DROUGHT:
It has been interesting to monitor the drought areas in recent years. 
High pressure dominance results in drought areas forming...but it is very hard to change up these areas without a significant weather pattern change.  
Here is the latest drought index: Ignore the drought near us...this map was created before recent rain.
The core this year is been all up and down the west coast.  Another reason for the warm water temperatures as well.  If this nature-high doesn't break down ...especially the north part (El Nino may be enough to break up the southern part) then the troughs will once again get aimed toward the Plains.
Here are the drought areas last year:  Similar
Then we go back to 2012: Yeah, we remember how cold air didn't have a chance that year.
I have not been able to find a direct correlation to droughts and winter impacts...but this is an area I keep monitoring to try to find any type of strong evidence to work with.  
Going with the way the map looks this year, I think the troughs will aim a bit more WEST than last year.  This should actually make sense with El Nino's sub-tropical jet as it may may lead to bigger "App-runner" low pressures that feed on those troughs.  But on the downside, there is a risk for many lows to form near or over WAVE Country.  That would put the main snow band to our NW.  And sadly, I do see more of those events this year than the past 2 years.  
 _______________________________________________________________________
WHAT TO WATCH OUT FOR 
-Arctic sea ice levels by late December.  Compare to last 2 years and 2012 as well.
-Ocean temperature anomalies in the NW Pacific/Alaska. Do they stay positive or fall?
-Sub-tropical jet kicking in across the southern US. How strong? Constant?
_______________________________________________________________________

WINTER FORECAST 2015-2016
Overall Impacts:
 I will break the impacts up by early winter/mid -winter/end of winter.  These will feature the general ideas of the most common weather pattern results during those periods.
EARLY WINTER:  I think the SE ridge will hold tough most of the time with a few intrusions of cold weather for our area.  The best risk for snow will be across Canada and the west.  This is good to build the snowpack over Canada...and it will set the stage for the rest of winter.   This is a key component.
MID WINTER:  This is when I think the "flip" will take place with the snowcover/sea ice expansion to our north. Again, those are a RESULT of weather pattern changes...they don't cause them.  With the cold shots likely to come in sharper...and a more active sub-tropical jet, I sense an increase in low pressures developing over the Ozarks or TN Valley.  As most of you know, it is all about timing.  Do we see good phased systems due to blocking or do we face a progressive southern jet that doesn't allow time for any phasing?  Very very tough forecast for this period.  I am going with a more blocking idea to develop App Runners and perhaps a few a bit more to the south.  With so much moisture at play, some of these snow/ice/rain events could be significant.  On the flip side, severe thunderstorms likely to be a big player for the Gulf states.  For WAVE Country, expect FEWER snow events, but LARGER ones if they develop.
LATE WINTER:  This may be where we see some changes compared to the past few springs; which were mainly headlined with March snow and...well...that's about it.  This late winter/near spring looks much more active and complex as true battles of winter/spring take place.  I see 2 zones of severe thunderstorms back on the change jet patterns during this period.
Temperatures:
This is for the entire period of Dec 1-March 15 COMPARED to normal.  Remember the normals listed at the top of this post.
Snowfall Potential:
This is for the entire period of Dec 1- March 14 COMPARED to normal.  Remember the normal snowfall is 12.5".
SUMMARY:
Snowfall:          12.5" to 16.5 possible.
Temperatures:   Roughly 1 to 3 degrees BELOW averages (not 1 to 3 below zero to                               clarify) for the winter. Northern areas closer to -1. Southern areas likely closer to -3.
Final thought:  I will try to update this just after Christmas to see how things are going.  Something I have not done in the past...
As I have stated before, winter forecasting is tough in WAVE Country.  Especially snowfall.  The true only way to gauge that is with increased/decreased precipitation expectations vs forecast cold snaps.  
I hope you realize how passionate this weather team is when it comes to weather here in WAVE Country.  This is our "home" and has been since our childhoods.  So if we get it wrong, we have to face our families at home.  Which can be just as brutal as social media :)
Thanks for reading/watching!  
Let the fun begin!
BOTS!
________________________________________________________________________
Now for some real fun...
When do YOU think we will experience our first 1" snowfall?  Here are our guesses:
Kevin: 1/9/16
Brian: 1/15/16
Christie: 1/5/16
Ryan:  12/14/15
Lauren: 11/17/15
Andy: 12/19/15
And now here are YOUR forecasts for the 1st 1" of snow at the measuring site (Louisville International Airport).
I asked this on 10/7/15.  Sadly, some of you are already out of the race.  I do not see snow in the forecast so I am starting with November 7th onward.  Thanks for sending!
NOVEMBER (7th-30th)
Barry Hogan 11/7/15
Keeley Goodale 11/13/15
Kenny Barnes 11/16/15
Sharon Parido Ahlhaus 11/10/2015
Missie House Blair 11/26/15
Tom Baumgardner 11/27/15
Teresa Smith 11_27-15
Denise Sellinger 11/15/15
Betty Hayed 11/29/15
Mandy Holcroft 11/15/15
Troy Demaree Carter 11/17/15
Katy Morris 11/24/15
Heather Johnston 11/18/15
Marleigha Burton 11/27/15
Branden Pfalzer Prince 11/27/15
Ellen Nutter Lusader 11/15/15
Maryann Carney 11/30/2015
Melanie Mullins Storms 11/15/15
La Wanda Evans Johnson November 15,2015
 Judy Vowels 11/30/2015
Linda Odle Yates 11/25/15
Lori Oliver 11-26-15
Olivia Herrell 11/7/15
Dana Apple Fowler 11/24/15
Hank Hill 11/25/15
Jeremy Saving 11/18/15
Maureen O'Keefe 11/22/15
Jeremy Bowman 11/21/15
Kim Farmer 11/21/15
Angela Milburn 11/17/2015
Dana Miller Holsclaw 11/12/15
Jared Johnson 11/30/15
Melinda White 11/29/15
Kathy Philpot 11/23/15
Amanda Nash-Curby 11/20/2015
Lillian Marlena Keith 11/13/15
 Jessica Woodrum 11/15/15
Robert Slauenwhite 11/24/15
Jennifer Baker 11/22/15
Barb Settles 11/28/15
Dee Dee Higdon Claggett 11/26/15
Alice Coomes 11/29/20015
Lisa Oliver 11/17/15
Heather Lea Isgrigg 11/15/15
Charles Mclain 11-22-15
Nancy Jean Montgomery 11/17/15
Bonnie McGee 11/15/15
Marla A Stark 11/28/15
Lee Ann Blaydes Edwards 11/25/15
Brenda Bratcher Valenza 11/18/15
Amanda Z Cunningham 11/22/15
Maryanne Riley 11/23/15
Jeff N Christi Trice 11/27/2015
Paula Johnson Bailey Nov 17
Lindsay Parrella Bumba 11/24/2015
Mark Sarley 11/11/15
Kathy Kendall 11/18/15
Regina Griesbaum Mudd 11/29/15
Phyllis Pippin 11/27/15...my mom-in-laws birthday...she was a saint..
Charlotte Brents Falvai 11/16/15
Kathy Risingsun Meece-Anderson 11/28/2015
Wandena Phelps Hack 11/08/15
Paul Glowiak 11/14/15
Rhonda DeZarn 11/24/15
Jessica Wade 11/17/15
Dana DeKalands Perine 11-21-2015
Laurie Mattingly 11-27-15
Shirley Johnson 11/25/15
Brian Barger 11/23/15
Doug Wilson 11/28/15
Patricia Alice Nicolas Brand 11/7/15
Sarah Whicker 11/24/15
Peggy Smith Stull 11/29/15
 Mike Schnieders 11/19/15
Leslie Dorris 11/23/15
Chaz Hall 11/27/15
Alice Mahon 11/12/15
Vicki Robison Thurman 11/14/15
Christina Coffey 11/19/2015
Monica Puckett Daugherty 11/16/15
Dolores Pechtold 11/10/15
Helen Schroeder 11/11/15
Krista Darr-LaJoie 11/26/15
Gayle Avis-Case November 27, 2015
Heather Elliott Minton 11/29/15
Kelly Pechtold Geer 11/10/2015
Suzanne Hobbs 11/18/15
Brandi Dreher 11/21/15
Audrey Hoffmann Burbank 11-24-15
Morgan Hensley 11/22/15
Millie Miller 11/16/15
Lisa Jo Keown Hassler 11/28/15
Amanda F. Duvall 11/20/15
Timothy Pardue 11/15/2015
Dolly Fravert 11/24/15
June Holewinski Guilinger 11/27/15
Kathy Laster 11/7/15
John McCubbins 11/23/2015
Virginia Logsdon 11/09/15
Leisa Short Goodwin 11/22/15
DECEMBER
Marnie Shallers 12/24/2015
Hallie Conrad Wedding 12/21/2015
Christina Stewart 12/17/15
Josh Burns 12/16/15
Joanie Edwards-Burress Barmore 12/08/2015
Kim Perkinson 12/12/15
Lisa Myers 12/4/15
Angie LaMonica Slaughter 12/10/15
Phyllis DeWitt Woosley 12/28/15
Nancy Parson Demaree 12/28/15
Heather Kelley Brown 12/25/15
Tyler Voelker 12/27/15
Kristy Burks McCutchen 12/19/15
Gwyna Conley Haydon 12/28/15
Pam Downs 12/01/15
Pamela Napier 12/03/15
Stephanie A. Mason 12/15/15
Stephanie Waddell 12/12/15
Mags NHay 12/03/2015
Melissa Money-Smith 12/17/2015
Lisa 'Swango' Hiatt 12/05/2015
 Theresa Powell 12/24/2015
 Melissa McIntosh Woods 12/11/15
 Brad Hockensmith 12/13/2015
Brad Lyons 12/3/15
Shelby Kendall Henderson 12/01/15
Daniel Flinkfelt 12-6-2015
Sue Hillberry 12/28/2015
Melinda Thomas 12/7/15
Tabitha N. McKinney 12/14/15
Michael Montgomery 12/1/15
Stephen Swinney 12/06/15
Mark Cothern December 21 2015
Jimmy Russell 12/02/15
Vlad Gomelsky 12/02/15
Jessica Berkey 12/12/15
Scott Gardner 12/21/15
Dennis Oechsli 12/14/15
Jenea Tidwell 12/20/16
Kevin Chilton 12/11/15
Melissa Burkhead-Mullikin 12/8/15
Jennifer Goodwin 12/24/15
Susan Scott Tilford 12/15/15
Christina Jesse Harp 12/8/15
 Janet Burton 12/2/2015
 Pamela Cox Horton 12/2/15
Robert Boston 12/14/15
Shelleta Kay Tilford-Whitlatch 12/02/2015
Sharon Becht 12/24/15
Claire Harpring Estes 12/13/15
Rodney Powell 12/6/15
EJ Goff 12/16/15
Patricia Torline 12/24/15
Robbie Coffman 12/1/2015
Erica Judd 12/06/15
Debra Hoots Guerrero 12/23/15
Pamela Jean Nalley 12/25/15
Nick Spalding 12/10/15
Phyllis Wells-Wimp 12/08/15
Tonna Wurfel-Aspinall 12/17/15
Carolyn Murphy 12/13/15
Phyllis Hall 12/14/15
Stacey Bond 12/12/15
Robin Webb 12-24 -2015
Trevor Mason 12/12/15
Anthony Collman 12/15/15
Myra Corbin Never! LOL! I will say 12/5/15
Cathy Miller 12/1/15
Stacy Renee 12/7/2015
Carolyn Clark 12/18/15
Hannah Smith 12/25/15
Brenda E Allen 12/24/15
Brandon Terry 12/19/15
 Tyler Lutz 12/10/15
Bob Walker 12/12/15
Olivia Lanham Corbett 12/5/15
Carol Huelsman 12/02/15
Lillian Weller 12/21/15
 Melissa Smith 12-04-2015
Ann Lawter Pollard 12/2/15
Beth Portman 12/3/15
Josh Yurt 12/26/16
Ben Pyles 12/7/15
Lynn Wright 12/19/15
Deborah Miller Mccusker 12/22/15
Suzanne ReNee Drury 12/1/15
Kimberly Parr 12/10/2015
Barb MacConnie 12/15/15
Dianne M Morris 12/9/15
Patrick Mcclellan 12/14/15
Pamela Elliott Villiger 12/2/15
Jim Norris 12/02/2015
Sherri Bruce Aikin Green 12/11/15
Gregory Bales 12/14/2015
Sandy Adams 12/8/15
Nancy Vonsick Owen 12/18
JANUARY
Thomas Everett 01/10/16
Doug Shofner 01/12/2016
Alice Mcfarland 01/03/16
Debbie Hentrup Benningfield 1/10/16
Dawn Hodges 1/25/16
Jami Vance 01/19/2016
 John Alvey 1/4/16
 Konnie McCollum 1/6/2016
 Julie Babcock Ralston 1/5/16
 Megan Akers Eades 1/15/16
Richard Robben 01/14/2016
 Bo Wigginton 01/01/16
 Teresa Walters 1/5/16
Amy Nowicki 1/6/16
David Miller 1/15/16
Karla McCollum 1/8/16
Dave Corder 01/09/16
Darlene Noe 1/3/2016
FEBRUARY
 Chris Ogle 2/5/2016
 Kelly Green 2/16/16
 Kevin Bayens 2/6/16
 Thomas Williams Feb 29
Thomas Williams 2/29/16
MARCH
 Jasmin Swanson 3/1/15