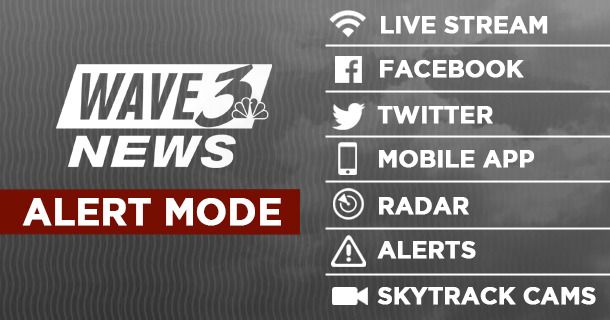 *** BE SURE TO HIT F5 or CLICK 'REFRESH' to see the latest update as the call takes place.  The following are the items mentioned on the NWS Louisville conference call regarding the severe weather potential this afternoon.
12:06 PM CALL ENDED.  Please stay tuned to WAVE 3 NEWS for updates on the WAVE 3 Weather App and to our newscasts this evening.  Stay safe.
12:05 PM Q: Allen County KY?  A: Initiation to our west 200-300pm.  Likely arrival 330 CT 630 CT
12:04 PM Gordon added for storm spotters to be ready.   Highly needed for later.
12:03 PM Q: Will we get advance warnings on tornadoes?  A:  These should be more large hail events to start with.  Some may evolve into tornadoes, but hard to see.
12:03 PM Q:  What about timing for Washington/Orange Co's IN?  A: 530-730 EDT. All threats on the table.
12:02 PM:  Gordon added this is more of a setup for the Great Plains than the Ohio Valley.
12:01 PM:  Q: Hail size potential?  A: Tennis Ball/Pool Ball Size.  But mainly bunches of golf ball size.
12:00 PM: Q: How can I track the hail?  A: Look for VIL on the data.
11:58 AM: Q: Will the WATCHES be PDS (Particularly Dangerous Situation)?  A:  More of an issue for down south as it looks now.  TN/GA/AL
11:56 AM Q: Timing for schools in Warren CO?  A: Earliest 200pm CDT.  Worst likely 330-600pm CDT.
11:54 AM Q: Ball game in Lexington at 7pm...thoughts? A: Keep in mind, this will be a scattered coverage of t-storms. But just about each one will have damaging winds/hail.  T-storms should be approach from the west near that time to hopefully make a better decision.  Timing overall 6/7pm-10/11pm.
11:51 AM Q: Question on timing for Green CO? A: Somewhere between 6-9 pm
11:50 AM Q: How far north would a WATCH extend?  A: Just about all of the area at risk for one.
11:49 AM  Q: When will WATCHES come out?  A: Good question.  Gordon guesses Tornado WATCHES by 3pm-ish?  Hoping for one large box instead of two.  
11:48 AM Q: Question about timing for Clark CO, IN?  A: Earliest would be around 5pm.  Main window looks to be 5-8pm.  Large hail/isolated tornado possible, but hard to say for that particular county. 
11:46 AM  Q: What about Nicholas Co?  A:  Timeframe mainly sunset or after.  Best threat for tornadoes looks to be South Central KY: Hart/Edmonson/Barren areas due to lots of sun.  
11:44 AM Q: What time in far west KY? Threats? And will it diminish by I-75 to the east?  A: West KY will see t-storms by 130-430pm range.  By the time it reaches I-75, still a threat for supercell/isolated tornadoes...but more of an issue of heavy rain.
11:44 AM Question/Answer Session Begins
11:43 AM Those that use mPING to report severe weather, please do not send tests right now.  They need it clear for actual reports for later.
11:42 AM Gordon stressed the importance of having a plan of action...whether at work/home.
11:42 AM Gordon wanted to stress this will be serious event.
11:41 AM Weak CAP now, but it will soon erode for t-storms to pop to our west by roughly 230pm.
11:40 AM Majority of the supercell should be lining up along I-65 by 6pm-ish.  Then they will start merging more into clusters/lines.
11:39 AM Hail and damaging winds will be the first threats.  But again, COVERAGE will be scattered.  
11:39 AM T-storms should pop on western edge Jasper IN to Central City area 230/300 pm.  
11:38 AM Question on low level winds when it comes to tornado development.  Certainly possible.  Flooding threat is not overly high due to speed of the t-storms.
11:38 AM Tornado threat is in the low-medium category
11:37 AM Damaging winds a threat as well.  60 mph +
11:37 AM Very cold aloft.  Classic setup for large hail.  T-storms will go severe in 30-60 mins.
11:36 AM Coverage will be scattered.  Not widespread.  3-10pm overall timing of this threat.
11:35 AM Forecast confidence is high.  Someone in the area will experience large hail and/or a tornado.
11:35 AM Tornado threat a bit more unclear.  But damaging winds and hail the main issues.
11:34 AM Expect hail. Not just large hail, but VERY LARGE hail.
11:34 AM Some will get missed completely.  But the t-storms WILL turn severe. Not a "maybe".
11:33 AM Warm 70s or even 80s.  T-storms rapidly developing later.
11:33 AM John Gordon hosting the call.  States this event is a big deal.  On on a scale of 1-10...this is an 8.
11:31 AM  Call Begins
11:24 AM: Stand by for call details