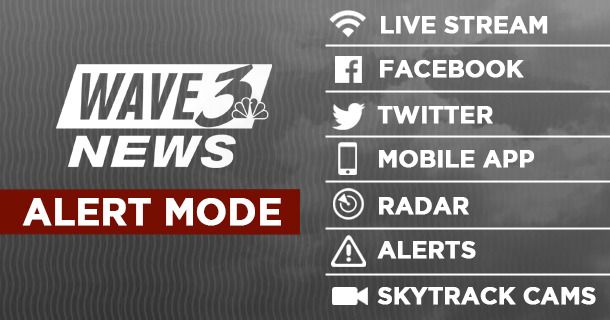 NWS Louisville is holding a conference call today at 1:30pm EDT to discuss tonight's severe weather risk. Hit Refresh (F5) to see new updates posted below.
1:50pm - The call has ended.
1:49pm - 170 folks on the call today.
1:46pm - Tornado Watch would likely be issued for our area, possibly by 4-5pm as a start time per John Gordon's thoughts. SPC in control of that.
1:45pm - Q&A starting.
1:45pm - 7pm to 1am is the period for strong to severe storms Sunday night.
1:45pm - Lots of lightning tonight, especially in northern areas tonight.
1:43pm - A few isolated Tornado Warnings tonight, but the main threat will be hail.
1:43pm - Things finally calm down on Monday. Windy, highs in the 60s.
1:42pm - Sunday night could go to a Slight Risk of severe weather per John Gordon's thoughts. Damaging wind threat.
1:41pm - Very warm and sticky tomorrow, but storm potential is unclear due to capping.
1:41pm - Slight Risk on Saturday for places northwest of the area should be for the morning storms lifting north over those area.
1:40pm - Heavy rain threat is an 8 out of 10, especially because this is at night. This becomes more of a problem this time of year with increasing moisture. Turn around don't drown!!!
1:39pm - Additional rain Sunday night could take some rivers into minor flooding depending on where it sets up. Those in the aforementioned basins will need to watch water levels closely next week if Sunday night's rain is bad.
1:38pm - 1-3" of rain possible tonight. Flash flooding over smaller basins and creeks. Rivers should be able to take that pretty well. Southern Indiana is the main threat area. Muscatatuck, Rough, and Green basins could get some issues.
1:38pm - Heavy rainfall possible for a few Saturday afternoon if the cap breaks. Small chance. 
1:37pm - Flash Flood Watch tonight along and north of the Ohio River. Storms will "train" over certain areas, meaning repeated hits from storms and heavy rain.
1:36pm - Tornado threat is mainly 5-10pm, should be much lower overnight, but can't rule out "something" during that time frame.
1:36pm - Classic setup for a heavy rain event overnight.
1:35pm - 9-10am tomorrow the rainfall should be tapering off.
1:34pm - Lots of high clouds over Indiana, but clearer in Kentucky. Big change in moisture and temperature this afternoon as warm front moves through.
1:34pm - There could be some "real tornado warnings" tonight, especially in the northern 2/3 of the area (Southern Indiana and counties in KY at least somewhat close to the Ohio River).
1:33pm - Greatest threat over the next 72 hours is heavy rain, then large hail (tonight), then damaging winds (overnight and Sunday night), then isolated tornadoes (tonight).
1:32pm - Saturday's storm chance is a challenge. Several rounds of storms this weekend, but Saturday night and early Sunday will be fine.
1:32pm - Severe weather risk tonight would be 5-10pm, then heavy rain event overnight.
1:31pm - Several rounds of heavy rain and storms over the next few days
1:30pm - John Gordon is starting the call.
1:28pm - Conference call will begin shortly.